Now Available
Safely store fenders without taking up space on board
Automatically deploys (drops) and lifts at the touch of a button on a supplied app on your mobile or tablet
Remembers the drop height at your marina
No need to go onto the bow when entering or leaving a berth
Easily installed in 30 minutes. Simply clamps to a horizontal rail.
No electrical cables needed - uses built-in solar, battery and Bluetooth
Pricing from £499 + VAT each (sold in port / starboard pairs)
For more information, pleases email info@boatsearch.earth
The Problems with Fenders
Fenders are one of those things we take for granted in boating.
However, let's be honest – they are bulky to store, a nuisance to deploy, and not all crew like going onto the bow – especially in choppy waters – to deploy them as you get close to your berth. Then after leaving the berth, you have to bring them back on board, and find somewhere to store them – usually taking up valuable and scarce storage space.
The situation is worse if you are single handed, short-handed or have crew that are uncomfortable moving about on the bow, or handling bulky fenders.
All too often, you get a typical scenario like this:-
You are approaching a marina. The rain has started and there is a slight chop on. The skipper is busy, perhaps shouting orders and the partner/crew running from one end of the boat to another deploying fenders, trying to fend off, as well as keeping a lookout. All this is happening at a busy time. Even when you are out on the water you need to find a way to safely stow the bulky fenders so that they don't cause any damage by bouncing around.
Of course, we can just take this hassle for granted. However, there must be a better way. Now there is.
The Solution to Banish Fender Woes
The  Automated Fender System (AFS) is the solution. 
It is neatly attached to the horizontal railings on the boat. The three clamps hold it firmly in place. They are so neat that they are hardly visible once installed. 
Once fitted the AFS will automatically deploy (drop to the correct height)   by pressing a button on a (supplied) app.
When you leave the marina, the AFS automatically lifts the fender and stores it neatly and securely under the rail.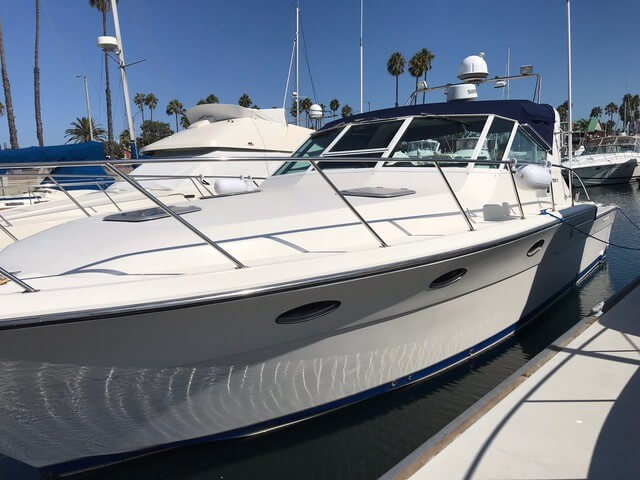 Buy now
Click below to find out more information about the system or order online.